Commercial Generators Keep Your Business Running During Power Outage
Weather in the Midwest is unpredictable but with commercial emergency power generators, you can remain confident that your business will get through any power emergency situation. Our state of the art commercial generators restore power to your business to keep your operation running smoothly without any power outage stresses. Our commercial emergency power generators are installed outside of your business, similar to an A/C unit. The units run on propane and natural gas. No need to worry about refueling.  Power outages can occur at any time. Make sure your business is protected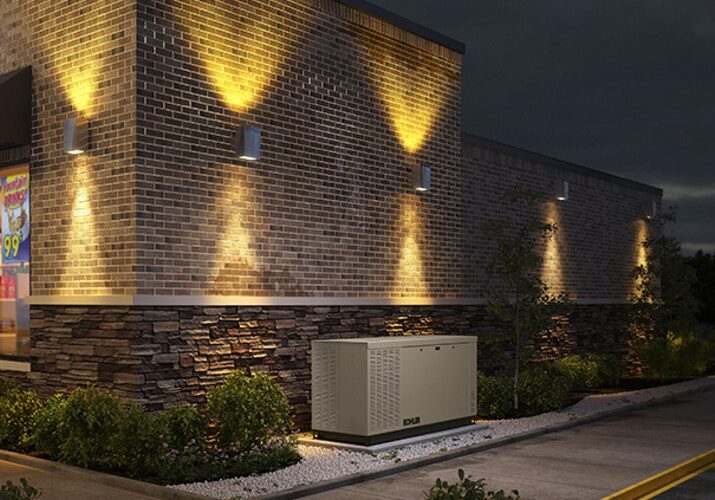 Protect your business against unforeseen damages caused by electrical failures with commercial emergency power generators. Power emergencies can be caused by storms, earthquakes, planned blackouts, freezing temps, or grid-wide failure. These circumstances can cause major stress to your business if you aren't prepared. Consider all of the electric reliant systems your business uses; phones, computers, phones, data processing systems, security systems, heat, A/C, and more. Proper commercial generator systems provide a layer of security against unforeseen damages to your business. Protect your day to day business operation systems from electrical emergencies.
Choose Kish Electric to Install Your Commercial Generators
With over 65 years of both residential and commercial electrical experience, you can feel confident that you are receiving the best products with the highest quality of care. Trust our experienced staff to help you select and install the highest quality commercial generators for your business in La Crosse, WI. We tailor our services based on YOUR needs to ensure we are installing the right commercial emergency power generators for your business.  Ensure that your business is protected with top of the line commercial emergency power generators and great service. Call Kish & Sons Electric today for your commercial generators consultation.